Marvelous began streaming the first promotional video for the anime adaptation of GungHo Online Entertainment and Acquire's Divine Gate iOS and Android app on Saturday. The video teases the main characters and reveals that the television anime is slated to premiere in January.

STAFF
Director: Noriyuki Abe (Yu Yu Hakusho, Bleach, The Heroic Legend of Arslan)
Series Composition: Natsuko Takahashi (Lady Jewelpet, Ore Monogatari!!)
Character Design: Ichiro Uno (The World Is Still Beautiful)
Music: Takumi Ozawa (Ookami Kakushi, Aria The Scarlet Ammo)
Anime Production: Studio Pierrot (Naruto, The Heroic Legend of Arslan)
---
Start: Jan 8, 2016
Season: Winter 2016
Main Studio: Studio Pierrot
Genres: Action, Fantasy, Sci-Fi
Romaji: Divine Gate
Japanese: ディバインゲート
Official Site: http://www.marv.jp/
STORY
When the Divine Gate opened, the living world, the heavens, and the underworld became connected, ushering an era of chaos where desires and conflict intersect. To restore order, the World Council is formed. As peace is restored, the Divine Gate becomes an urban legend.

In that world, boys and girls deemed fit by the World Council are gathered. They are ones who aim to reach the gate for their personal objectives. Those who reach the gate can remake the world.

What lies beyond the gate? When they reach the door, will the world change? Will it be the past that changes, or will it be the future? (Source: MAL News)
CHARACTERS:
Tetsuya Kakihara (Natsu Dragneel in Fairy Tail) voicing as Akane
Souma Saito (Adlet Mayer in Rokka no Yuusha) voicing as Aoto
Kanae Ito (Nana Astar Deviluke in To Love-Ru –) voicing as Midori
Ayana Taketatsu (Kirino Kousaka in Ore no Imouto ga Konna ni Kawaii Wake ga Nai) voicing as Hikari

Sora Amamiya (Akame in Akame ga KILL!) voicing as Yukari
Hiroyuki Yoshino (Allelujah Haptism in Mobile Suit Gundam 00) as Ginji
Yuichi Nakamura (Alto Saotome in Macross Frontier) voicing as Arthur
Rie Kugimiya (Alphonse Elric in Fullmetal Alchemist) voicing as K
Aoi Yūki (Fremy Speeddraw in Rokka no Yūsha) voicing as  Dorothy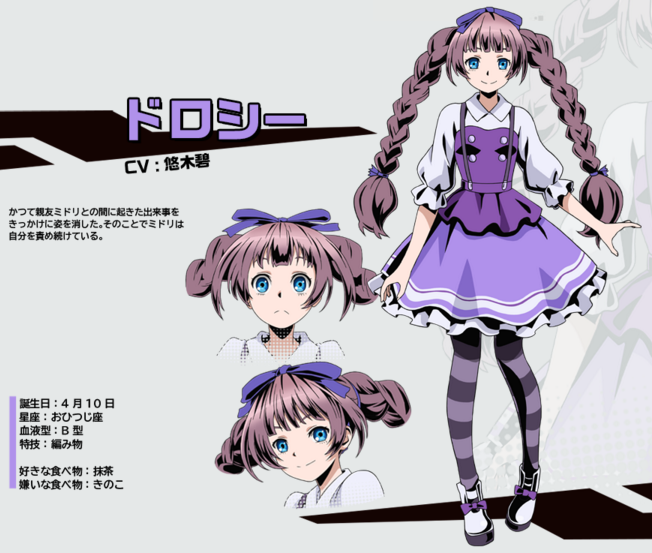 VIDEO:
The original Divine Gate game is available for free download on iOS and Android. In the "panel RPG," players explore dungeons, solving puzzles to uncover panels and reveal treasure or monsters. The game has included more than 1,000 unique characters, including Steins;Gate characters as guest bosses.
The game has also included characters from Fairy Tail, Fate/stay night: Unlimited Blade Works, and Danganronpa.
Source: Crunchyroll, Ofiicial Website, Twitter,ANN