Yo, Mina-san! I'm trying to think of a topic that I need to write in. Now, my mind is fully empty. It's like I was unconscious at all. I'm trying to squeeze out my mind to look for a topic. And all of a sudden, a core inside my brain abruptly enlighted. Anyway, the topic that I will share with you since all of us are mostly sentimental when it comes watching in an anime is about Sentimental or Emotional scenes that made you teary-eyed and deeply inspired.
But before we delve into a topic I'd like to remind you that all these lists solely belong to my own tenets. This article may also contain

spoilers

!
So, Let's get started! With No Particular Order.
1. Fullmetal Alchemist: Brotherhood
Fullmetal Alchemist: Brotherhood is one of the best shoujo anime way back in 2010. And yet, there are some scenes that make us teary-eyed. I must admit,  in 45 episodes  that were shown up, this  was the heartbreaking scene that I have seen so far.  It was like 'urgh! WTF! how dare he do that to his own son?!'. And that time, my tears started to pouring down and thinking how I abhor the man behind in terrible experimentation.
2. Attack on Titan: No Regrets 
No doubts why this scene includes in my list. In eight OVAs, I must say, this was very unforgivable and heartbreaking scene. It was like someone sneaks to stab my heart. And I wasn't surprised why Levi Arcken has that kind of personality because of this dark past that was shown up in the show. Not to mention, It conned me to like him even though I personally don't like him.  But the last episode proves me that he deserves to be admired.
3. Anohana: The Flower We Saw That Day
After a long, long time searching for Menma. This scene blows me away. And at the same time, it keeps me love this show. It was a hopeful and heartbreaking scene that most of us got teary-eyed. I know some of you were still crying on this show and couldn't get over in the ending. Even myself, I still can't get over…
4. Fairy Tail
You probably heard Fairy Tail, right? I know the first thing that crossed in your mind is all about fantasy, magic, wizards, adventure etc.  But nothing beats the sentimental and emotional scenes of this show. This scene was shown during Grand Magic Games Arc. She casts the taboo spell causing greatly aged. The moment I saw this scene I was filled with emotions. Because I usually see her aura as fierce as a beast.
5. Angel Beats!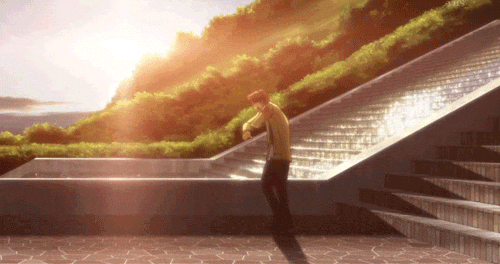 Urgh!  What else can I say to this anime? Seeing this scene leads me to sorrow. It really makes me cry indeed. A heartwarming scene that constantly affects your heart. Until, I still can't get over with the epilogue.
6. Sakurasou no pet na Kanojo
Sakurasou no pet na kanojo was undeniably stunning! you might be wondering why I include this scene? Yes! I intentionally include this show, because the painting frame shown in this scene. It was touching and filled with emotions that even myself couldn't restrain it. The painting frame made by Mashiro Shiina shows the residents in  Sakura Dormitory. It's like showing what character has been added or joined in the story. You'll know what I meant for this frame. Still one of the best scene!
7. Elfen Lied
Yep! No mistaken. Elfen Lied must include in my list. Because of the heartwarming ending! You know, it's like I couldn't express my emotion. And yet, I was like 'I badly need this season 2'.
8. Shigatsu wa Kimi no Uso
Urgh! Though I haven't finished this show. I still can't get over with  previous episodes. I must admit, I was spoiled by someone. But it doesn't matter to me. 🙂 Seeing this scene it's like saying "bye Miyazono, Kaori" huhuhu!Akame
9. Akame ga Kill
I know some of you would disagree but I insist on including this one. And I have foreseen that all members are going to die. Aside she's my fav character anime. This scene makes me teary-eyed and outburst. It's like someone broke up with me :p
10. Death Note
Until now, I still can't get over why L dies in front of Kira?!! It really makes me cry. We all know that L suspects Light Yagami as Kira. But how come he did kill him?! Still one of the best scenes.
---
That concludes my list. I know there were tons of anime scenes out there that could make you cry. But I choose what's the best for me. Still need to watch drama anime like NANA, LITTLE BUSTERS, and CLANNAD: AS.  
What about you? What's your Sentimental And Heartwarming Anime Scenes That Made You Cry? Can you share with me?